Religious Education
It is recognised at St Thomas More School that Religious Education is central to all we do. Pupils are helped to
develop an understanding of Catholic values and doctrines and they are encouraged to participate in the life of the Parish.
Click the link below to view more information about Reigious Education in our school.
Click here to view report from The Diocese of Hallam
Section 48 Inspection Report - The Catholic Life of the School and Religious Education May 2019
DIOCESE THEME FOR 2018-19: "CATHOLIC SCHOOLS: CALLED TO BE A FAMILY OF FAMILIES"
The theme has been chosen to follow on from the World Meeting of Families in Dublin in August, to share the aims of that meeting in the light of Pope Francis' encyclical Amoris Laetitia (The Joy of Love). The theme will present a special opportunity for school families to celebrate, not only the fact that parents are the primary educators of their children, but also the vital role that Catholic schools play in assisting parents.
The theme will rely on materials created by the Irish church's schools' steering committee for last year, and will invite schools to reflect on and celebrate the relationship that exists between home, school and parish through participation in four sub-themed catechetical moments.
Information for these 4 moments will be shared throughout the year and linked to activities in school and through homework.
Moment One: Families of Hope (November 2018)
Moment One: Families of Hope is rooted in our belief in the promise that Jesus made when he said,
'I am the resurrection and the life. Those who believe in me will live, even though
they die' (Jn 11:25–6).
Our hope as Christians is that death is not the end but that at the end of our time here on earth we will be reunited eternally with Jesus in heaven:
We are reminded of this hope in Pope Francis' document Amoris Laetitia (The Joy of Love), which teaches us about love in the family. Hope is an essential part of this love.
"Here hope comes most fully into its own, for it embraces the certainty of life after death.
Each person, with all his or her failings, is called to the fullness of life in heaven. There, fully
transformed by Christ's resurrection, every weakness, darkness and infirmity will pass away.
There the person's true being will shine forth in all its goodness and beauty. This realisation
helps us, amid the aggravations of this present life, to see each person from a supernatural
perspective, in the light of hope, and await the fullness that he or she will receive in the
heavenly kingdom, even if it is not yet visible. (117)"
Moment Two: Families of Faith (January 2019)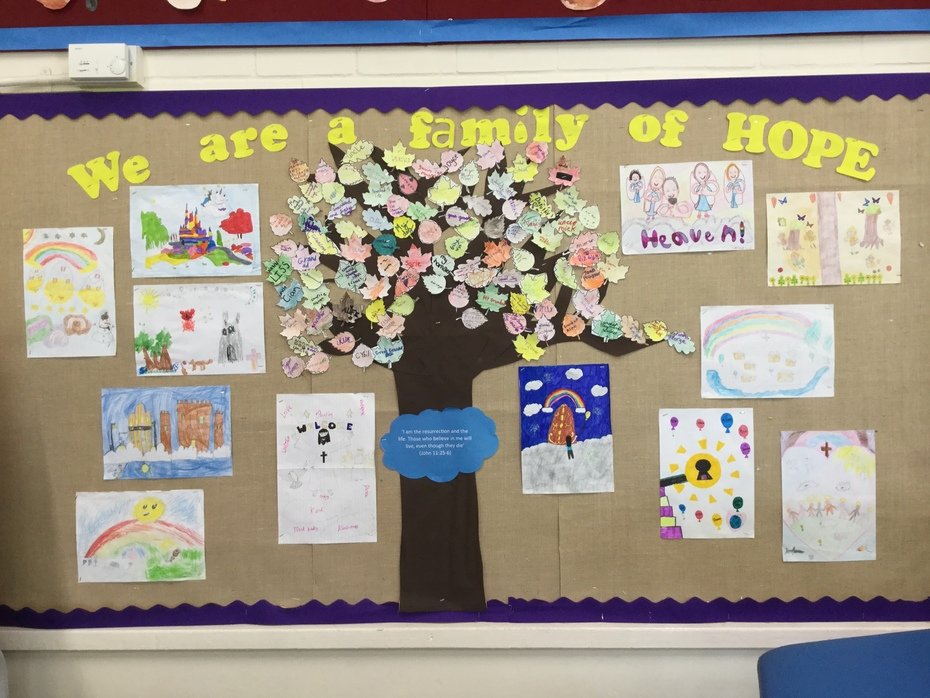 Moment Two: Catholic Schools: Families of Faith
W/C 11th March 2019
The children will be receiving daily lessons and reflections for w/c 11.03.19 on this second moment along with homework linked to this second moment topic. Homework will be given out on 13.03.19
Each day of the Week has its own unique theme with associated resources that the classes will follow.
The daily themes are:
Monday: Our Family at Home
Tuesday: Our School Family
Wednesday: Grandparents: A Special Part of Our Family
Thursday: Our Parish Family
Friday: Our World Family
Moment Three: Families of Love (Lent 2019)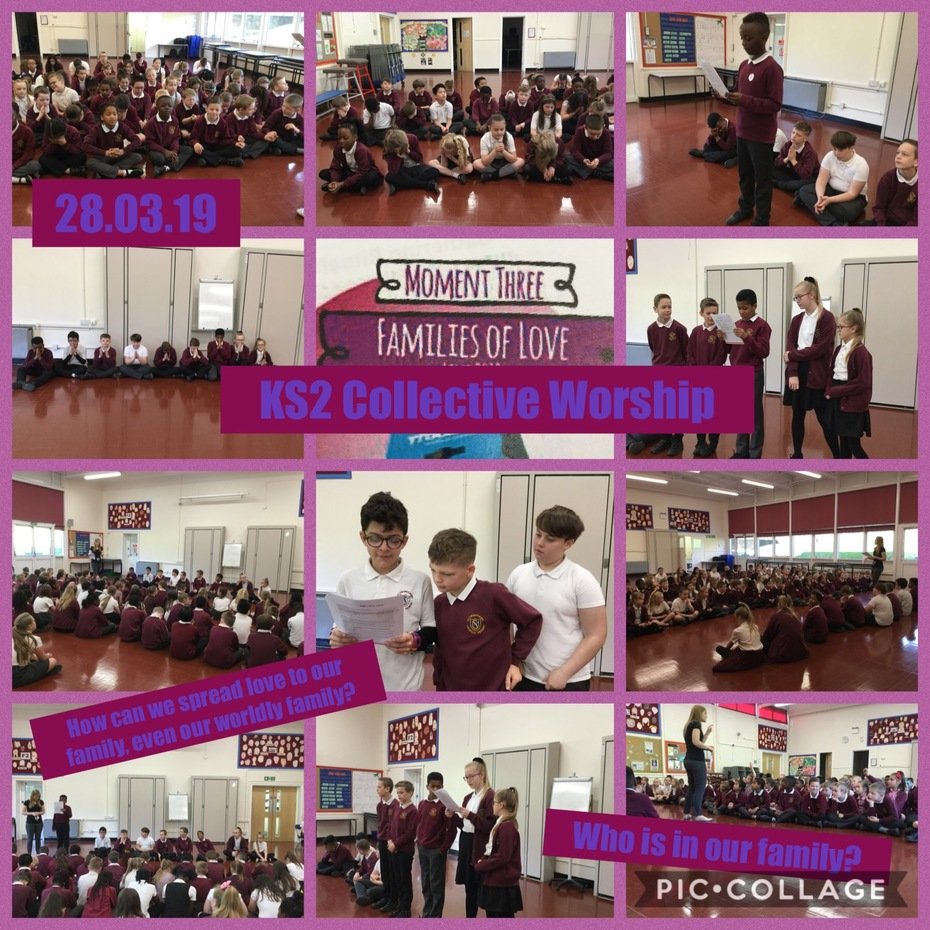 Moment Four: Families of Joy (April/May 2019)
Click here to view our Gathering Together Summer Term booklet.
Click here to view the themes we are exploring in RE this Summer Term.
Click here to view our RE Year by Year Overview.
We follow the "Come and See" programme of Religious Education from F2 to Year 6.
Click here to visit the 'Come and See' website
Other Faiths
The children are taught to value and respect other religious beliefs through in-depth study of other world faiths.
Two other faiths are covered each year and different classes will teach different faiths. All classes will teach Judaism each year as required by the Come & See RE scheme.
Over a 3 year period the four main other faiths will be taught. A child who enters school in Reception and remains in school until end of Y6 will be taught each major other faith 4 times.
| | | |
| --- | --- | --- |
| Class | Other faith - Autumn | Other faith - Summer |
| F2 | Judaism | Sikhism |
| Y1 | Hinduism | Judaism |
| Y2 | Judaism | Islam |
| Y3 | Sikhism | Judaism |
| Y4 | Judaism | Hinduism |
| Y5 | Islam | Judaism |
| Y6 | Judaism | Sikhism |
We aim to teach children about loving human relationships developmentally alongside the Science curriculum, and within a framework of Religious Education.
What did St Thomas More do during the Year of Mercy? Click here to find out!