Our School Wish Wall!
Our School Wish Wall!
3 October 2016 (by admin)
What's that in the entrance hall.......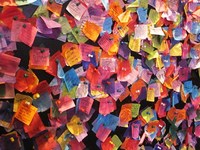 Dear Parents/ Carers,
F2 and F1 are in the process of developing outdoor learning for the children at St Thomas More. We would love your help and input!
We will be creating a wish wall of resources that will help to enhance the children's learning, and hopefully you can help. Our wish wall will be located in the entrance hall and we would love you to check and see if you can provide any of the resources we need.
Check out our wish wall for further information...
Thank you for your continued support
F2 and Y1 Staff