Young Entrepreneurs' Challenge
Young Entrepreneurs' Challenge
1 November 2016 (by admin)
Our Young Entrepreneurs show their Skills!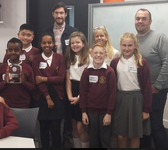 Ever felt like you could impress in the Dragons' Den? Six of our year six children had the chance to do just that, as they took part in the first Young Entrepreneurs' Challenge event on Wednesday 12th October. Daniel, Katie, Rebecca, Maddison, Kalab and Cole visited the University of Sheffield for the day, where they were taught various business skills by a local entrepreneur. The children were delighted to have the opportunity to see the University's new Diamond building, which is an amazing place to study.
Challenged to come up with their own idea for a new company, they decided on *HomeworkHelper*, an ingenious service to help children struggling with their home learning. Happily, the judges chose St Thomas More Catholic Primary School as their winning entry! The panel highlighted the children's inventive marketing campaign as a key factor in their decision.
The children gave a fantastic pitch and really impressed the judges, who included Lee Strafford, the former Chairman of Sheffield Wednesday.
The judges were particularly impressed with the quality of all of the children's pitches. Janet Grant, a judge and mentor from the University of Sheffield's Enterprise Zone, praised the pupils' presentation skills, which she said rivalled those of undergraduate students.
The event is part of a new initiative led by local business, Tutora ( https://tutora.co.uk), who help parents find local, expert tutors. They designed the event to inspire children to dream of one day building and running their own companies.
Scott Woodley, Co-Founder of Tutora and event organiser, said: 'Who knows, perhaps the event will inspire the next Bill Gates or Alan Sugar?'
The children enjoyed the event and we are very proud of their business efforts! To read more about the event, visit https://tutora.co.uk/articles/ young-entrepreneurs-challenge-sheffield-children-inspired