LOST PROPERTY!
LOST PROPERTY!
8 February 2018 (by admin)
Have you lost any property...come and check before it has to be disposed of!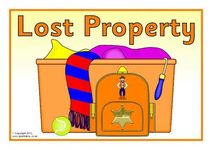 We have a large amount of lost property in school. If your child is missing any items of clothing, lunch boxes etc please come and have a look in our lost property bin in the entrance hall.
On Tuesday the 13th February we will be putting all the lost property in the hall for parents to come in after school and have a look for any missing items. We will also have a selection of very good quality second hand uniform that has been donated to us from our parents.
If anyone is interested in any of these items we are just asking for a small donation no matter how small, which will go towards the Children's Hospital Snowflake appeal.
Any lost property not collected will be disposed of during half term. Last date to collect will be Friday 16th February.