Sleep Tight Course for Parents/Carers
Sleep Tight Course for Parents/Carers
16 February 2018 (by admin)
Come and join the Sleep Tight Course for advice and support...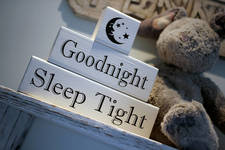 Welcome to Sleep Tight, a sleep workshop for parents/carers
Sleep Tight was recently independently evaluated by Nottingham University; the findings were published in the Journal of Health Visiting. On average, children had 2.5 hours more sleep per night after the intervention. Parents reported changes in family life and child's daytime behaviour. The findings support the use of Sleep Tight as an effective, time-limited behavioural sleep programme.
Sleep is vitally important to support children's development and their well-being. When a child is having sleep issues it can impact on all areas of their development including their emotional, physical and mental health.
We understand how difficult life can be when your child has a sleep issue. Our aim is to support families to get a better night's sleep by offering workshops and written materials, provided to us by The Children's sleep charity. We will use a behavioural approach to sleep and work in partnership with families; we know that you are the expert on your child.
Following on from the feedback from our parent workshop on sleep hygiene, we will be running the 5 week workshop course on the following dates:
Friday 9th March 2018 at 9.15am
Friday 16th March 2018 at 9.15am
Friday 23rd March 2018 at 9.15am
Friday 20th April 2018 at 9.15am
Friday 27th April 2018 at 9.15am
If you are able to attend the workshops please complete the slip below or ask for a slip at the office:
Sleep Tight Workshops
Name of Parent: ____________________________________________
I will be able to attend the 5 week sleep tight workshop
Signed Parent/carer:____________________________________________