Y5 Trip to Headingley in Leeds
Y5 Trip to Headingley in Leeds
9 March 2018 (by admin)
Important Information...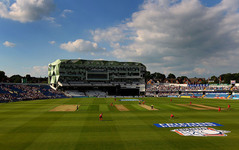 Year 5 will be attending on Wednesday 21st March 2018.
We will leave school at 08:45 to arrive in Leeds for 10:00. The children will take part in a practical cricket session and a classroom based Numeracy, Literacy and Geography enrichment. After lunch we will receive a tour of the YCCC Museum and even have access to behind the scenes areas of the ground – including the Player's Area!
We will be returning to school at about 3.30-3.45pm depending on traffic.
Children should wear warm comfortable clothing suitable for participating in physical activity e.g. tracksuit bottoms and trainers or equivalent, but children do need to wear their school jumper or school polo shirt.
The cost of this trip has been partially funded by school, but we are asking for a voluntary contribution of £13 from parents, to help towards the cost of the transport.
--------------------------------------------------------
Y5 "Cricket in the Classroom"
Yorkshire Country Club in Leeds
I give permission for ____________________to attend the above Y5 trip on Wednesday 21st March 2018.
Signed Parent/Carer_______________Date ____
I have enclosed a £13 voluntary contribution
Unfortunately as always if enough voluntary contributions are not received to cover the cost of the trip, it will be at risk of being cancelled
If your child receives free school meals and you would like to order a packed lunch for the day,