LENTEN PRAYER PROJECT
LENTEN PRAYER PROJECT
9 March 2018 (by admin)
Join our Lenten Journey...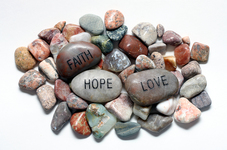 As parents, carers, grandparents, family members, friends and parishioners, the school community of St. Thomas More would like to invite you to participate in our Community of Lenten Prayers project.
As a school and parish community, it is our hope and vision to create a Lenten display filled with prayers and special intentions that are real to us and mean something in our hearts. This might be a prayer for our local or global community or even a personal prayer that is close to your hearts.
Every single child in school has written their special intention prayer onto a special Lenten paper pebble. These prayers have then been added onto a path on a display in school.
We invite you to come into school and take a pebble (found in the entrance hall of our school). If you write your special intention prayer onto the pebble (no need to write your name unless you want to), then hand it into the office and it will be added to our path.
Please feel free to do this before or after school – or even if you are coming into watch a liturgy or coming to chat with a member of staff.
Any questions, please feel free to ask. Many thanks in advance for your continued support of our school!!