Y1 Inter Sports Event @ Institute of Sport
Y1 Inter Sports Event @ Institute of Sport
23 March 2018 (by admin)
Find out more information about this event...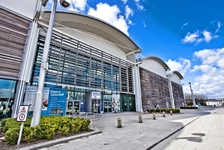 On Tuesday 24th April Y1 will take part in an intra and inter school sporting competition at the EIS.
They will take part in relay races, a basketball event, long jumps, speed bonce, targeting hitting and running events to name a few! Children will need to wear black shorts and trainers.
There is no charge for this event, as the coach price will be covered by school. Children will need to bring a water bottle on the day and be wearing their PE kit.
We will be leaving school at 12:00pm and we will return to school by approx. 4pm.
Therefore children will need to be collected from school at 4:00pm instead of 3:20pm. Children will need a packed lunch to eat at school before we go.
Please indicate below if you would like to order a packed lunch from school.
Y1 Inter Sports Event at the EIS.
I give permission for _________________________________
To attend the Inter Sports Event at the EIS. Signed: ___________________________________
I would like to order the following packed lunch
Ham sandwich
Cheese sandwich
Tuna sandwich
I will provide a packed lunch from home.