Parking Information
Parking Information
28 March 2018 (by admin)
Please give your support...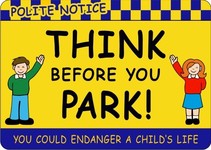 We are continuing to have incidents of inappropriate and un-safe parking by a minority of parents/carers/visitors to school which are putting members of our school community in danger.
Please do not park on yellow zig zag lines outside school or on the double yellow lines near the bottom gate entrance. Can we also request that you are considerate towards local residents when parking and do not block/obstruct driveways. We realise dropping off and pick up times are
very busy.
The safety and well-being of all members of our school community, particularly our children, should be priority for all of us. Thank you for your help and support with this.