Y3 & Y4 Tag Rugby Festival
Y3 & Y4 Tag Rugby Festival
11 May 2018 (by admin)
Find out more...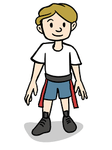 30 children from Y3 and Y4 have been invited to attend the Tag Rugby festival at All Saints High School on Tuesday 19th June. 15 children will be chosen from each class. We will be travelling by coach to All Saints and we are asking for a £3 voluntary contribution from each child attending the event to help towards the cost of the transport. The children will be chosen by who gets their permission slip and £3 voluntary contribution back into school first.
On the day the children will need their PE kit in school and a water bottle. They will be leaving school after lunch and will be returning back to school at approx. 3.30pm.
Please sign the slip below to give your permission for your child to attend and please return to school with your £3.00 voluntary contribution towards the transport.
I give permission for my child
Childs Name:_____________________________to attend the Y3/4 Tag Rugby Festival should they be chosen.
I enclose a voluntary contribution of £3 to help towards the cost of the transport.
Signed Parent/Carer _______________________