Y6 End of SAT's Celebration!
Y6 End of SAT's Celebration!
11 May 2018 (by admin)
Good Luck to our Y6's for next week - here's something to look forward to after all your hard work...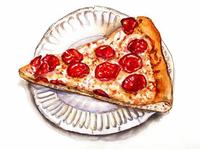 Y6 End of SATs Celebration - Pizza and Chill Out Day
On Friday the 18th May the end of SATs week, we will be having a pizza and chill out day.
This will be a non-uniform day for the children in Y6, children can come in their chill out clothes – PJ's etc.
On this day, we will be ordering in a take away lunch which we will share together, and will spend the day
relaxing together. This will be paid for by school and so the children do not need to bring any money with them, or order a school dinner on that day.