Y4 & Y6 Cheerleader Showcase @ 3:00PM
Y4 & Y6 Cheerleader Showcase @ 3:00PM
29 June 2018 (by admin)
Come and see how the Cheerleading After School Club has been getting on...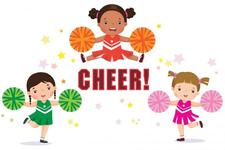 Y4 and Y6 are holding a Cheerleading showcase on Monday 16th July at 3pm .
All Parents and Carers are Invited to attend. A group of girls in these classes have been attending weekly cheerleading club where they have been learning a routine and it is now ready to be shown!
The showcase will be on Monday 16th July at 3pm in the hall. See you there!