Important Information about the Flu Vaccination
Important Information about the Flu Vaccination
3 July 2018 (by admin)
Please read - parents/carers of F2, Y1, Y2, Y3, Y4 and Y5...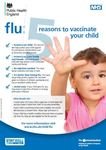 Nasal Influenza (Flu) vaccination to be offered to:-
Primary School children in Reception and Years 1, 2, 3, 4 and 5
The Department of Health have announced that all children in reception year 1, 2, 3, 4 and 5 are to be offered a nasal Flu vaccination this year. This program will commence from September 2018.
The reason for this announcement is that there is now good evidence, from the last five years of vaccination programmes in this country, of the benefits of immunising healthy children to reduce the transmission of Flu and to reduce absenteeism in schools for children and staff.
Consent forms will be sent out to parents/carers next academic year.