Parent Ambassador Meeting Minutes
Parent Ambassador Meeting Minutes
13 September 2018 (by admin)
Find out the latest...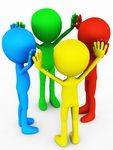 Linda Kirk- website/App/twitter- we don't have a lot of parents on twitter. School would just like some feedback on the use of social media. Linda will be setting up some drop in sessions for parents to help with the setup of any social media.

Twitter- question as whether it is private. We follow other relevant organisations e.g. CAFOD and other organisations can follow us, however this is monitored daily.

Newsletter- sectioning it off for a page per year group- can we do this per year group? Could it be in chronological order? We really like the important dates on the front too. Yes, we can try this doing the newsletter chronologically

Friends association facebook page can be open- no pictures of children though- an open invite to the friend's associations 5:30-6:30- day to be arranged on FB page.

we need new members for the friends association and any new ideas for the stalls etc. One event per half term. Movie night- popcorn/drinks was one idea.
Trips- Could we find out about how much trips are for the year 2018/2019? Yes- we will put it onto newsletter and see how much it is for a term for each class. Other ideas were fundraising for their own trip school give each class £20 to get them started then each class organises activities to fundraise for their chosen trip. Parents/carers would then need to make up any shortfall for the identified trip. Any surplus could eg buy each child an ice-cream.

After school clubs- engagement through the children as not much variety. Although we have put lots of different clubs on, many get cancelled as there is not enough children who sign up. Some examples given for other clubs were: Football club, languages club, lego club, sports multi-skills, more sports, ICT, gardening club…? We have had the vast majority of these previously and they are just not well attended.

Class ambassadors
We are currently recruiting two new class ambassadors from each class Y1-Y6 (F2 from after Christmas). The children who volunteer for the job will be asked in class to do a presentation about why they would make an effective class ambassador. The children in class will then take a vote for two ambassadors to represent their class. The class ambassadors will be announced in 18.9.18 newsletter.
Parent Ambassadors - Our parent ambassadors for each class are as follows:

F2 To be recruited
Y1
Allyssia Shaw - Andrews - Nicola Shaw
Y1
Joel Nunn - Rachel Nunn
Y2
Darcy Darwent - Adele Darwent
Y3
Carly Fish - Lisa Fish
Y3
Oscar Welsby - Joanne Welsby
Y4
Nicola Jones - Abby Jones
Y5
Rose Saunby - Linda Winfield
Y6
Ruqayah Mundell - Saiphty Mundell
There will be a 'drop in' for all of our families to meet our parent ambassadors on Thursday 4th October at 2:30pm. This is a chance for you to have an informal chat with the ambassadors as well as offering your own suggestionsTea/coffee and biscuits will also be provided.