Y4 Residential
Y4 Residential
21 September 2018 (by admin)
All you need to know Y4 Parents!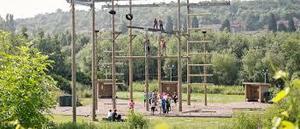 ATTENTION YEAR FOUR PARENTS
We have been offering a 1 night residential trip to Kingswood Adventure Centre in Penistone for the Y4 class for the last two years, which has proved to be very successful. This year the proposed trip will take place on Tuesday 5th March 2019.
The stay will include all accommodation, including meals provided on the first day of lunch, dinner and refreshments and the following morning breakfast, and lunch.

It will also include 6 day time activities (to be decided) and also 1 evening activity.
The children will travel from school by coach on Tuesday 5th March to Kingwood Peak Venture in Penistone. They will arrive in time for lunch and then participate in three activities before the evening meal and a further activity in the evening. The following day the children will have breakfast and participate in further activities before having lunch and making their way back to school by coach.

The cost for the accommodation including all meals and supervised activities is £55 per child.
There will also be a further cost of approx. £15 for the coach return travel, making the total cost to be approx. £70.00.
The cost of the coach will depend on how many children take part in the residential trip, and we will not be able to go ahead with the trip unless we have at least 20 children taking part. We would ideally encourage the whole class to take part in the residential trip, as this will be a very valuable experience for your child.
We will be offering an information session for parents to attend in the near future to find out more about the activities the children will be participating in and further information on the Kingswood Centre. We will also be giving you information on clothing and footwear the children will need for the trip.

For now we would like you to confirm below if you would like your child to take part in the Y4 Residential trip and include a £20 deposit, which will be needed to secure the booking with the Kingswood Centre. The final date for this will be the 10th October. If we do not receive enough interest to make the trip viable to go ahead we will of course return your £20 deposit.
Further information about the Kingswood Peak Venture Centre can be found online at http://www.kingswood.co.uk/centres/peak-venture/
Y4 RESIDENTIAL TRIP TO KINGSWOOD PEAK VENTURE 5th TO 6TH MARCH 2019
I give my permission for my child: ______________________________________________To take part in the one night residential stay at Kingswood Peak Venture in Penistone.

I include a £20 deposit to secure the booking. I am aware that the trip will only go ahead if the school receive sufficient interest of over 20 children and I will receive a refund for the deposit should the trip have to be cancelled.

Signed Parent/Carer: --------------------------------------------------------------------------