Parents Evening
Parents Evening
28 September 2018 (by admin)
Time to book your appointment...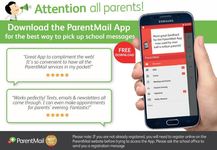 For our parents evening on the 11th of October we will be using Parents Evening Manager on ParentMail. You can book your parents' evening appointments from your smartphone, tablet or computer from Wednesday 26th September at 9:00am until booking closes on Wednesday 10th October at 2:00pm.

You will be alerted instantly once the appointment booking goes live and will be able to select appointment times that are convenient to you. It's all very straight-forward, but if you need help you can visit the ParentMail help site: https://www.parentmail.co.uk/help/parenthelp/

Please note, you will need to be registered on ParentMail to be able to book appointments – if you haven't received a registration email or text, please contact the school office.

Once registered, if you have an Android or Apple smartphone, we would highly recommend you download the ParentMail App so you can book appointments on your phone as soon as the appointment booking goes live! To do this, simply search for "ParentMail" in your App store.

If you have any issues or queries with the process please contact the school office as soon as possible.