School Council present to The Sheffield Children's Hospital
School Council present to The Sheffield Children's Hospital
3 May 2019 (by admin)
Finding out more about where our fundraising money went...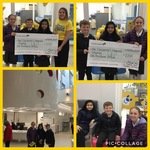 Some of our School Council members visited The Sheffield Children's Hospital to present them with the £1000 we raised over the last few months. We met with some of the Children's Hospital Charity staff and we found out about some of the things our fundraising helped to support!
We were given a 'huge' cheque that we were allowed to take back to school to display and will be sent a plaque in a few weeks to say thank you for our support.
It was great to see what our fundraising helps to go towards and we want to say a huge thank you to every one of our STM families who supported these events!