SCHOOL NEEDS YOUR VOTES!!
SCHOOL NEEDS YOUR VOTES!!
24 May 2019 (by admin)
HELP US WIN!!!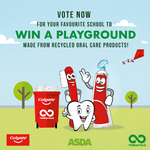 Our school has been entered into a competition to win one of the following:
School Playground, Planters, Bench - all made from recycled oral waste products - all sponsored by Colgate!
The winners are decided by votes so we need you, your family and friends to get voting!
You can click on the link below to vote or paste it into your browser. Once you have done this it will email you to ask you to verify your email/vote. Once that happens you can use the same email to vote once a day until the closing date which is Wednesday 3rd July. If you have more than one email, then you can use both! You can post it on social media to encourage people you know to vote for us too! Remember to vote everyday!!
The link is:
https://www.terracycle.com/en-GB/contests/colgateplayground
Thank you everyone for your support and votes!