Parent Mail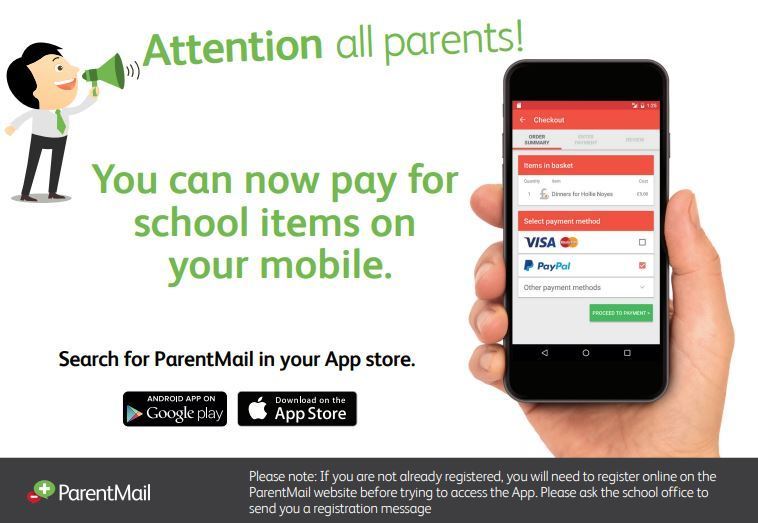 We are set up to receive payments online through parentmail. We will soon be offering this service to all our parents for any trips/events that need to be paid for in school.

Please download the App from the App store or for Android app on google play.

If you did not receive a text message regarding the closure of school due to the snow. Please contact the school office so we can make sure we have the correct details for you on the parentmail system.
Thank you for your support with this.
For our next parents evening we will be using Parents Evening Manager on ParentMail – so you can book your parents' evening appointments from your smartphone, tablet or computer.

You will be alerted instantly once the appointment booking goes live and will be able to select appointment times that are convenient to you. It's all very straight-forward, but if you need help you can visit the ParentMail help site:
https://www.parentmail.co.uk/help/parenthelp/

Please note, you will need to be registered on ParentMail to be able to book appointments – if you haven't received a registration email or text, please contact the school office.

Once registered, if you have an Android or Apple smartphone, we would highly recommend you download the ParentMail App so you can book appointments on your phone as soon as the appointment booking goes live! To do this, simply search for "ParentMail" in your App store.

If you have any issues or queries with the process please contact the school office as soon as possible.
PLEASE OPEN UP THE DOCUMENTS BELOW FOR HELP WITH REGISTERING WITH PARENT MAIL AS A FIRST TIME USER VIA EMAIL AND EXISTING USER VIA SMS!