School Uniform
At St Thomas More, our school uniform fulfils three roles:
· It shows that we are proud to belong to our school community
· It shows that we are all included and valued equally
· It shows that our school is a place of work, and that is why our uniform is practical and safe
a
All children wear the following uniform:-
(Please note: all uniform should contain the child's name)
a
Burgundy sweatshirt, jumper, cardigan, knitted waistcoat or tank top - with the school logo or plain.


No hooded tops or other kind of logo tops are permitted.

Red and white/burgundy and white school dress - checked pattern.

Polo shirt – white with the school logo or plain white.

Trousers, shorts, skirts, pinafores –grey or black 'school wear' fabric (not denim or combat styles or leggings).
Tights – plain (not patterned) in the following colours; black, grey, burgundy or white.

Shoes – suitable full toe, flat, dark coloured shoes/boots, preferably black.


No trainers. No flip flops, heels no more than ½ inch block heel.
The prefered supplier for St Thomas More School Uniform is 'Logo Leisurewear', please click here to be redirected to their website.
Please note, however, that parents/carers are able to purchase uniform from elsewhere. The school logo is not required to be on the school uniform, but please ensure that the school uniform complies with the above policies.
a
PE Kit
Children should attend school wearing PE kit on PE days
School PE kit includes:-
Shorts or jogging bottoms - these should be plain black, grey or navy

A plain white T-shirt (with or without school logo)

A long sleeved top, and this should also be plain black, grey, navy or a school jumper/cardigan

None of the clothing items should have commercial logos only the school logo.

Footwear is bare feet for indoor PE and for outdoor PE children can wear a pair of trainers or pumps.

Long hair should be tied back for PE.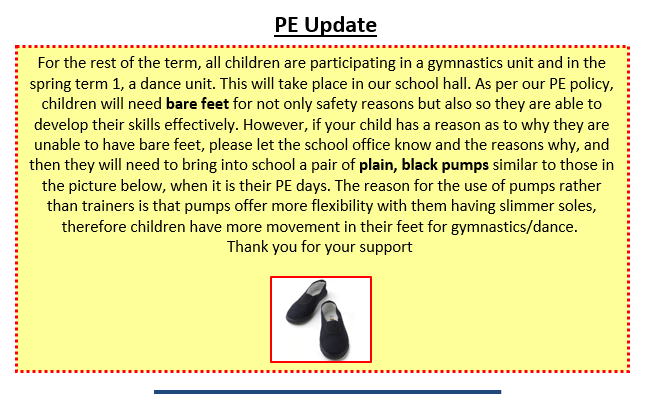 a
Jewellery
One pair of small plain stud earrings may be worn, maximum of one in each ear, no other style is permitted. Earrings should be removed for PE. If they are not removed then your child may not be able to participate in PE/swimming. Please see the School Uniform Policy 2023 - 2024 for more information.
a
Make-up/hair styles
a
School has a policy of no-make up, including no false nails or nail polish. There should be no extreme hairstyles i.e. hair dyed, no patterns shaved into hair - if you are unsure please check with school staff before having your child's hair cut/dyed/styled in a specific way.
The Uniform Swap shop is now operated by High Green Development Trust. To make a request, please email them at uniform@hgdt.org detailing the school, size and items required